My son and I spent a ridiculous amount of time reading reviews, watching YouTube videos, and comparing specs on manufactured gaming desks. Each of them offered something appealing but none checked all the boxes. That is, until we decided to build our own.
Hands down, the ultimate gaming desk is the desk that you design and build yourself. It's not an overly complicated process and you don't need extensive knowledge of woodworking to do it. Best of all, you can save hundreds of dollars and truly create a custom design that's just right for you. And if you really want the ultimate gaming desk, build a computer into the desk itself!
That being said, I realize that many people just want to get a desk set up quickly and get to gaming. So, before we delve into the numerous benefits of building a Desk PC, let's look at a couple of the best bang-for-the-buck gaming desk options and what makes them the choice pick for the price.
Economy-Priced Gaming Desk
When it comes to a low-cost solution, there are few if any products on the market that can offer a better choice than the Mr. Ironstone Gaming Desk. At around 45″ wide and 29″ deep, it's ready for tight space battle station locations like a bedroom or dorm.
At the same time, there's plenty of space for your peripherals and monitor. What makes this one well thought out for the price is the inclusion of a cup holder and gaming headset holder to keep those items readily available but off the work surface.
The R-Frame design of the legs are crafted to keep the desk sturdy during intense gaming sessions. Overall, its a simple and sleek solution to creating a gaming workspace.
Ball-Buster Gaming Setup
If you want a ready-to-go gaming desk and want to create envy, the Eureka Ergonomic Z60 Gaming Desk is a rock-solid choice. It's 60 inches wide and 24 inches deep, giving you plenty of breathing room.
Where this desk stands out is with its inclusion of RGB lighting. Plug this beast into your PC and you've got some sleek accent lighting. It also includes a large mouse pad and a lowered keyboard/mouse platform to reduce fatigue.
All in all, this is an excellent choice for someone who wants that sleek, stand-out look in a gaming desk but isn't ready to commit to building one.
Now, if you are still interested in the ultimate gaming desk and are ready to put some time in to create one, let's look at the unique benefits of building a DIY Desk PC case…
Ultra Customizable and Expandable
When you design and build your own gaming desk you are in control. You decide the height, the width, the depth, whether monitors will sit on the desk or be mounted, and every other specification that matters to you.
When it comes to expandability, there is no comparison between a traditional "gaming desk" and a desk PC. Think about it. You are wanting a gaming desk to play games on a computer, right? Where will you put the desktop computer? Will it take up space on the desk or will you put it on the floor where the level of dust trying to enter your system is at its highest?
With a Desk PC, you build the desk so that the PC components are actually installed in the desk itself and you top it off with a big sexy slab of glass over the top. This provides a tremendous amount of room for expanding your PC components compared to a desktop PC case.
Space to Run Dual Systems
Speaking of room for expandability, a desk PC can usually easily hold two complete computer systems if you want. This means you can have one system that you use for gaming while the other is running a server or something else. Crazy, right?
The point here is that a desk PC that you build yourself offers a tremendous advantage over a store-bought desk that they label as a "gaming desk".
Can be Themed to Your Gaming Addiction
Why are you really looking for a gaming desk in the first place? It's not like it will increase your kill score in a first-person shooter. Face it, it's the cool look of the desk that you are after, the thrill of a gaming setup that says "I'm serious about gaming".
There is simply no manufactured gaming desk on the market that can compare to the look and impression that a desk PC gives and when you take the time to develop a consistent color scheme and theme for your system it can be jaw-dropping.
I have written a lengthy post on tricking out your gaming setup with a theme if you want to have a look but what I would really impress upon you here is that by designing it yourself you aren't stuck with whatever theme the manufacturer of the desk decided on. You can make the theme unique to you. Best of all, you can change that theme later if you want on a whim. Try that with a "gaming desk" you buy off the internet.
Here's the biohazard theme that we are currently using.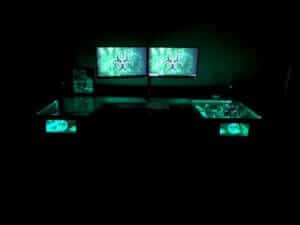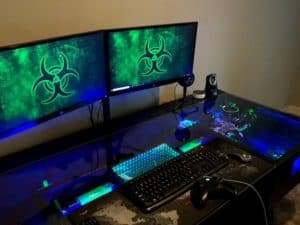 Cable Management is a Dream
I saw so many desks titled "gaming desk" because they had a red logo or some stripes painted on them but they were really just fancy tables on metal legs, not gaming setups at all. They didn't provide for true cable management (zip-tying the cables to the desk legs doesn't qualify as cable management to me).
A desk PC, by contrast, is all about a clean and organized presentation. We built our desk with all of the cables routing to the underside of the desk and building a skirt around it that prevents you from seeing those cables unless you really get down and look for them. We were even able to mount an AC Extension cable in a hidden area we built in the desk so that all of the monitors and the PC power supply could be plugged in without any of those cables being visible.
It Costs Less Than a Traditional Gaming Desk
Sure, the economy desk that I mentioned earlier comes in at a good price considering it's features. But take some time to shop around Amazon. As I'm writing this I am looking at a table marketed as a "gaming desk" for $399 US. We built our desk PC for less than $200 and it offers a ridiculous number of benefits over the $399 table.
By the way, I'm not exaggerating when I call it a table. It literally looks like a black table with some red paint designs on it. There is nothing about it that makes it stand out as being uniquely suited for a gaming setup.
It Saves Space
That $399 gaming table I just mentioned – it has no place for a PC case to be mounted. So even though it is a gaming setup it overlooks the most fundamental component to PC gaming, the PC! A desk PC, by comparison, actually incorporates your gaming system into the desk. Think about that for a moment. The truest definition of a gaming desk is a desk that puts gaming first. What better way to do that than to fuse the two into one. That was my conclusion at least.
Showcases Your Commitment to Extreme Gaming
Remember what we said earlier, that a gaming desk is all about the cool look that it gives to your setup? We searched long and hard for a pre-built gaming desk that would do that but nothing out there said "gaming setup" like a Desk PC. Now, if you don't want to take the time to design and build your own there are manufactured Desk PCs but those are quite pricey and remember that cost savings was one of the benefits we talked about earlier. Plus, I believe you still lose a lot of customization and personalization options when you opt for a pre-built design over the do-it-yourself option.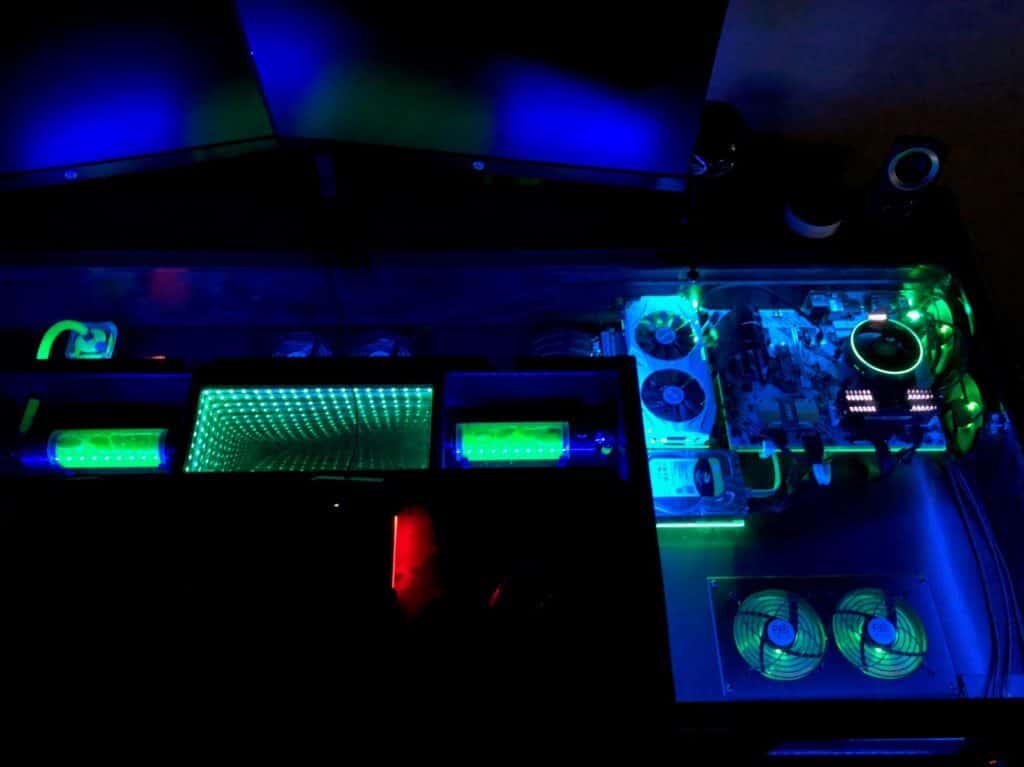 The bottom line for this point is that the gaming computer that you invested so much into no longer sits on the floor next to your desk as an afterthought but instead becomes the showcase for your system. Add some RGB LED lighting into the desk and you have a recipe for drool-worthy gaming goodness.
It Makes You the Envy of the Gaming Community
For less money than you would spend on a manufactured "gaming desk," you can build a custom-made desk PC that will stand head and shoulders above the majority of gaming setups out there. It looks better, it makes better use of space, and it just screams "serious gamer!" Add in your hand-picked PC components and it can be a beast of a gaming system. My son still beams with pride when friends come over and see his desk PC for the first time. They are in awe and he just eats it up!
It is Something You Made Yourself
Nothing on the market can meet every need for every person. Those desks are mass produced and meant for the masses but if you are reading this you are not content rolling with the masses. Designing and building a custom-built Desk PC is a rewarding experience not only in the skills you learn but in the custom results that are true to your needs and your wants. There are some great ideas out there for customizing your gaming setup but in my mind, it all starts and revolves around the desk.
If you are having any hesitations about whether or not you can build your own Desk PC let me just tell you that my 13-year-old son and I built one for him. We started out with nothing more than some drawings on a sheet of notebook paper. We learned our way through it and it was a great experience. Best of all, if he gets bored with it for any reason, we can always build another one (we have plans to do that anyway soon and I'll be posting a full video series on building a desk PC as we go along). And guess what, even after we build that second one we still won't have as much invested as we would have in most store-bought gaming desks that are inferior in almost every way.
If you are interested in learning how to build your own custom computer in a desk gaming setup, start by learning how to design your new desk PC case.