Every aspect of your Desk PC build should be uniquely you. The design of the desk, the PC components you choose, everything. But if you really want to take your desk PC design to the next level, consider incorporating a theme into your build.
Incorporating a theme into your desk PC case build is a fun and simple way to add a unique aspect and look to your build. From Steampunk to Mad Scientist Laboratory, theming out your build makes it like no other. Let's explore a few ideas and simple ways to make your desk PC case stand out.
Go Retro
If you are looking for a fun and creative way to set your desk PC apart from the crowd, adding retro props into your system is a sure way to go. Consider eyebrow-raising components such as:
A DIY infinity mirror

Lava lamp

Plasma ball (or two!)
Maybe include a black light poster or UV reactive signs. A USB powered black light bar or UV LED strip will really make those elements pop. Personally, I prefer to stick to USB powered devices so that I can hook them into the PC power supply with a SATA to USB adapter and have them turn on and off with the computer. And while we are on the subject of retro…
Vinyl is Final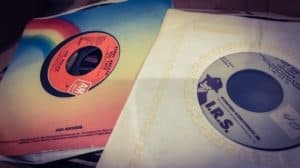 If you are into vinyl, a fun approach might be to lay out 45 RPM records in your desk and maybe even mount them on the outside as well. You can have a lot of fun with this by focusing on records that are consistent with the era of your theme. And while you are at it why not add some other era-appropriate props. For example, an 80's build could have a couple of cassette tapes, pictures of 80's rock bands, maybe a Rubik's cube, anything appropriate to the theme. I have an old Polaroid camera and some pictures and postcards from the '80s that I'm saving for just such a build.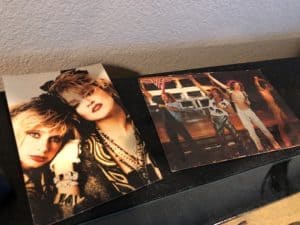 Maybe this needs to be my next project. Parachute pants anyone?
Industrial or Steampunk Look
If you are into Steampunk you can really get creative with your desk PC build by incorporating industrial pieces. An iron pipe can be routed in various areas around the inside of the desk and secured with brackets. (Bonus tip – build a shelf that is mounted to the wall above or next to your desk using these same pipe fittings and paint the wood the same as your desk to accent your build!)
Another great option or addition is a copper pipe. There is a trend of using copper piping for water cooling builds and while I would love to see some of you send in pics doing this, you can incorporate copper pipe into your build without actually using it for water cooling. Just take some copper pipe and have it routing through your build. It gives the build an industrial look and is quick and easy.
Metal plating is yet another great way to add an industrial look to your desk PC. You can pick these up at Home Depot or Lowes or order them online. Consider mounting your motherboard above it or cutting it to line the sides of your desk on the inside. Just remember that it is highly reflective so less is more if you plan to utilize LED lights in your build. You don't want to blind yourself from the glare.
You can also add old gears, vintage metal signs, and any number of other props. Let your imagination run wild!
Wartime Command Center
If your building a gaming battle station and war games s is your forte, what about a command center theme? You can pick up old knobs, switches, and analog gauges at local garage sales and flea markets. Add a few vintage panel lights if you want. Whatever makes your desk PC feel more like a command center for wartime engagement.
For a more vintage and realistic wartime theme consider these common Army Surplus finds:
grenades (non functioning of course!)

Military insignia and medals

WWII Helmet (assuming its height does not exceed the height of the desk case)
WWII postcards
I personally think a World War II-themed build would be amazing! If anyone takes this on please send pics and let us post on diydeskpc.com for others to see and admire!
Mad Scientist Laboratory
This is one of the most fun themes and the easiest to create with props thanks to Halloween and novelty shops. Imagine having test tubes with UV reactive liquid sitting in them and a small blacklight bar or UV LEDs illuminating them. How about a plasma ball or an old knife switch with wires running out of it and into one of the inner walls?
There's no limit to what can be done here. My only caution would be to stay away from props that look too cheap and cheesy. You want your theme to have a feeling of authenticity so take the time to scope out the realistic looking props for your build. When we decided on using a plasma ball in our build I chose to remove the cheap looking plastic cover and do something a little different (details and pics later in this post).
Warning – Biohazard!
This is the theme we went with (more on that below). Great ideas for incorporating into this theme include green UV reactive fluid in tubes or in a water cooling loop, UV LEDs or black lights, and caution signs that warn of potential biohazard exposure.
Where to get theme props
A quick search on Amazon or eBay will yield plenty of results for common and inexpensive theme props such as lava lamps, plasma balls, and vintage looking signs. Garage sales and flea markets can also be great sources for unique and hard to find props as mentioned earlier. Unless you have a specific prop in mind, browsing categories on Amazon or just strolling through flea markets can give you great ideas. I generally find that it's best to settle on a theme idea and begin searching through google images for props and concepts that will complement what I'm envisioning. It's a fun process and you will get a lot of great ideas.
Add a desktop background to compliment your theme.
Once you have settled on a theme and added the props to the desk, it's a great idea to download a background for your screen's desktop that goes along with your theme. This really helps to tie the build theme together.
The simplest way to do this is with Google Image Search. You can customize your search to find the correct screen resolution and even filter for certain colors.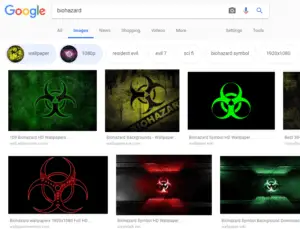 A great tip is to go color neutral with your props and use the colors of your LEDs and desktop background to accent the build. That way you can keep the theme you've settled on but change the color theme from time to time to keep things fresh. I usually download three or four colors for the same theme so that I can change things up on a whim.
Mix and Match for a Look That is Uniquely You.
When we were ready to begin incorporating a theme into our build, my son initially wanted a Star Wars theme but then decided he liked the idea of a biohazard theme. We found a desktop wallpaper that he liked. He wanted a UV reactive green water cooling liquid flowing through reservoirs like some kind of toxic waste. I also made an infinity mirror using inexpensive two-way mirror sheets.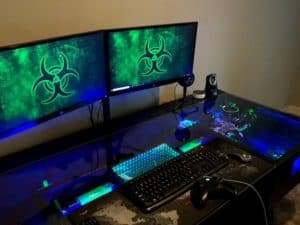 We added a cheap biohazard sign that I found on eBay and a couple of acrylic windows with biohazard logos engraved on them.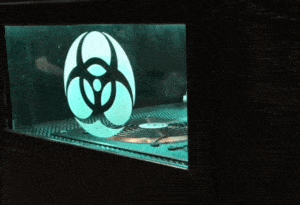 But he also wanted a plasma ball, something that didn't exactly fit the biohazard theme but admittedly would add a cool look to the desk. Now, normally you would be cautioned against installing something that emits an electrical charge in a PC case but since the desk is so large we were able to install it four or five feet away from the PC components. I built a simple box and glued on a few knobs from an old radio and also cut a hole for a thermometer that came from a wall plaque. The end result was just what he was looking for and I have to admit, it's pretty unique.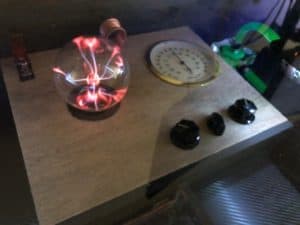 The point here is that you aren't limited to a single theme or design element. You can use your imagination and incorporate various ideas from different themes for something eclectic and unique.