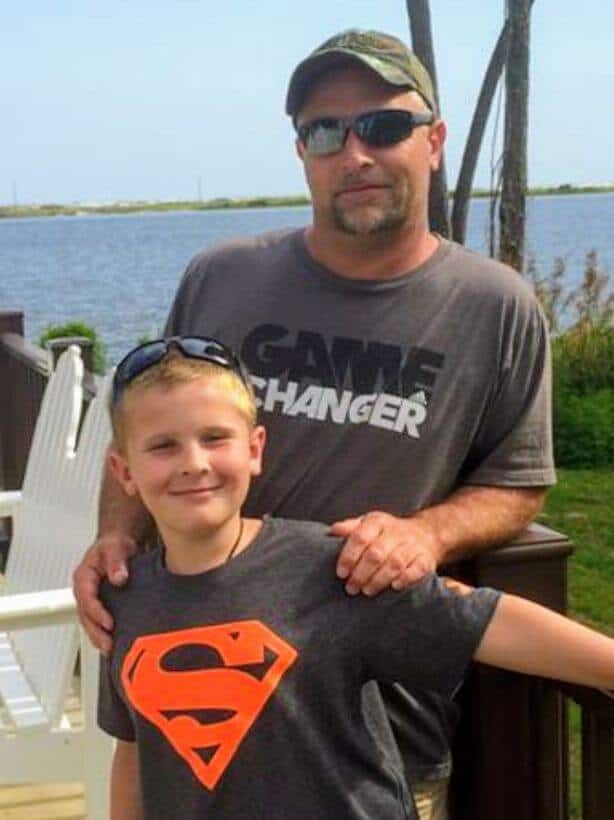 My name is Paul. I'm just a dad who wanted to create something really fun and different with his son. Together we designed and built our very own Desk PC – a computer built into a desk complete with a glass top and RGB lighting. 
I want to share our journey with you and to guide you on how to build your very own desk PC! 
Let's create something that will turn heads!
Here's a timelapse video of our first custom DIY Desk PC build. It won't be our last!
As a longtime PC enthusiast, I continuously seek out creative new ways to not only increase the performance of a system but to discover creative ways to showcase it. After years of researching virtually every PC case on the market both new and old I have come to the unwavering conclusion that there is simply no better way to display a spectacular computer build than in a Desk PC case.
My intent with this website is to share this passion with others and encourage the growth of a DIY Desk PC revolution. There is no reason to be limited by the constraints of a desktop PC case sitting on or next to a desk when the desk itself can be the case for the computer. It's a sleek, elegant solution and after building our first one I am confident that anyone can do it with just a little support and guidance. That's what I intend to provide here. 
Father-Son Adventures In PC Building, Modding & Woodworking
I've made it a point to include my son, Mason, in projects as I believe that learning the skills to build a PC, mod a case, or design and build your own computer in a desk are handy skills to have.
He's more of software person than hardware really and have taken a number of courses on Java and C++ programming. Less of an actual gamer than a game modder, he likes to learn how to get into the 1's and 0's and tweak programs to his liking.
Still, a young man needs to know how to handle a power tool. Saws, drills, grinders, all basic tools for creating.
I had him build his first PC when he was about 12. I supervised of course but it was an excellent learning opportunity for him. Here is a short video of that build.
If you notice similarities in the parts used in this build and the ones that eventually ended up in our computer in a desk, it's because we scavenged this PC for the parts.
Beyond Computers – Short Film Projects
We've also had a lot of fun over the years creating short films. Boys always love playing army so we would try to take it up a notch. If you are interested, here's one of the short films that we made in honor of Mother's Day. Lot's of explosions and special effects as the story unfolds.
We've actually done quite a few of these over the years. As he's gotten older, he's lost interest so I'm not getting to put my video editing skills to use as much but we've made some great memories that can live on thanks to YouTube and I guess that is something.
When my son grows up, I won't have anyone to play with anymore.
I hope you find the information on this website helpful. Thank you for stopping by.
Paul & Mason