Building your best gaming experience is more than choosing graphics cards, processors, and ram. From the internal components of your machine to the lighting in your game room, the best gaming comes from taking a holistic perspective.
That's been our philosophy since we first starting building computers in a desk but I realize that some people just want to get their rig set up and start gaming.
Gaming desks are an often overlooked part of a gamer's toolbox. The issue goes beyond if it has enough room for your triple monitor setup, built-in reactive LED lighting, or great cable management.
Hardcore gamers can spend almost five hours a day playing (source). If you don't have a desk suited to your needs you could develop back or wrist strain.

In order to help you choose the best desk for your needs, we've combed the internet and made a list of popular, unique, and just plain cool desks of all shapes and sizes.
The best gaming desks on the market include:
In order to rank these desks we focused on  the following criteria:
Ergonomics
Appearance
Shape/Size/Design
Features
Company Customer Relations
Assembly
It's important to note that while we may love one desk more than another, your experience should be tailored to your needs and specifications. There's no point in buying the massive Arozzi Arena if you don't have enough room for it in your apartment.
Conversely, don't go for a budget desk if you need all the features necessary to support a multi-monitor setup. With that said, let's jump into the reviews.
Now, let's look at each of the top picks and why they made the list.
Eureka Ergonomic Z1-S – Best Choice For Small Rooms & College Dorms
With Eureka Erognomics, it's explained in the name. They're a company that specializes in making ergonomic computer accessories for office workers and gamers. With a Eureka desk you can be sure you're using a product designed to fully mitigate the physical problems of gaming, from bad posture to carpal tunnel.
Speaking of the design process, Eureka is not a rebranding company. They design every desk from the ground up, manufacture it in their own factory, and test their product in real-world situations before selling it to the public.

In addition, Eureka is dedicated to consumer protection, offering free shipping as well as a 30 risk-free trial on all of their sit/stand desks. Plus they use the Norton Shopping Guarantee which gives you identity theft protection, a purchase guarantee, and the lowest price match.

We haven't even gotten to the desk yet, but it's important to see just how customer-focused Eureka is. That said, the Z1-S is an impressive gaming accessory.
I actually bought this gaming desk and we've been extremely happy with it. Assembly was super-easy (my son put it together himself without any assistance).
This is a picture of it on the first day when we were setting up a PC for it. We'd not yet taken advantage of the cable management features that it provides. We were just focused on getting the system up and running.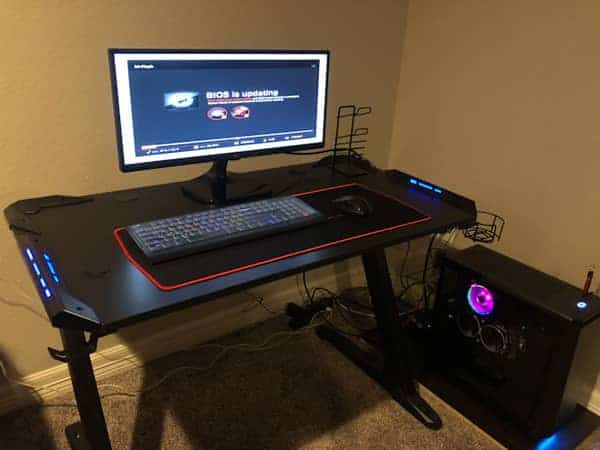 The Z1-S is an incredibly sturdy piece of furniture. The Z in Z1-S stands for their novel Z frame design, which, in addition to giving you more room than traditional upright legs, gives the desk rock-like stability, avoiding the dreaded gaming desk wobbles.
The desk frame is made of steel while the surface is CARB-2 compliant particle board and ABS plastic. Eureka uses high quality materials to create a desk that can take whatever punishment you throw at it.
Some gamers shy away from particleboard since it isn't as sleek as glass or metal. To solve this, the Z1-S comes with a carbon fiber texture overlay that maintains a suave appearance without costing an arm and a leg. I have to say, it's very sleek.
The desk's surface measures in at 44.5"x 24.2". It takes up very little space which makes it ideal for a small bedroom or college dorm.
This is more than enough to support two full gaming monitors with tons of room left over for the included extra-large mouse/keyboard pad. The Z1-S also comes with a built-in cup holder to protect your machine from accidental spills. Plus they even have a headphone hook and controller stand.
The most striking feature of the Z1-S is the built-in LED lighting. It's built into the sides of the desk to give you extra immersive gaming experience. However, the lights are limited to a single shade of blue, which might not be ideal for games with a full RGB setup.
Eureka isn't just about an ergonomic final product. The assembly process for the Z1-S is a breeze. They include all the tools you need and it took less than 30 minutes for my son to put it together from unboxing to finish.

The Eureka Ergonomic Z1-S is an awesome gaming accessory. It comes with tons of add ons and features, a patented ergonomic design to keep you healthy, and the company is dedicated to making your purchasing, gaming, and user experience as simple and seamless as possible.


Click HERE for latest pricing on the Z1-S on Amazon!
---
AuAG RGB Z-Shape (Best Triple-Monitor Setup)
AuAg desks are impressive. Sporting massive surface dimensions, cool features, and a sleek futuristic look, it's no wonder that they have captured the hearts of many serious gamers.
However, the company itself is sort of a mystery. We couldn't easily find the manufacturer's website or any external contact information, though you can reach them through their Amazon page.
That can be off-putting for some buyers but each of the AuAg series of desks has over 4-star ratings on Amazon. Knowing this, we simply couldn't overlook them and had to see what all the hype was about.
For this AuAg desk we can definitely say that the hype was justified. Coming in with a whopping 66" by 23.8"  surface, it is a tank. Built for dedicated gamers with a dedicated gaming space, the RGB Z-shape takes over the room.
It has the same ultra-stable Z-shape design as the Eureka Z1-S which gives it a max load of 330 pounds! That's more than enough space and strength for double or even triple monitor setup.
The RGB Z-Shape comes loaded with useful features. It has the standard cup holder and headphone rack to keep your desk organized and free of dangerous spills.
But the desk really shines with it comes to aesthetics and cable management.
AuAg provides a sleek waterproof full-cover mousepad designed for comfort. But you might want to go with a smaller mousepad since the desk comes with a beautiful carbon fiber texture covering the entire top surface.
The desk has built-in six-color LED lighting, completing the futuristic vibe. The LEDs can be set to three separate color modes, static single color, single color light show, and multi-color light show.
The RGB Z-Shape comes with two cable management grommets as well as some extra holes along the legs for cable ties. This allows you great flexibility in setup design so you won't have to deal with a mess of cables anytime you want to change or repair something.
So this desk is feature-filled, beautiful, and well organized. Had we been looking for a gaming desk for a larger bedroom, this would have been our choice!
Finally an important and often overlooked feature, the desk feet. AuAg have designed their desk with four independently adjustable stabilizing feet. This means you can perfectly adjust your desk to be level even on an incline.
This feature alone puts the RGB Z-shape ahead of the competition. The number one biggest problem with gaming desks is instability. In terms of assembly, the instructions are almost too simple, consisting of pictures with few words. It isn't complicated to put together though and it shouldn't take more than 30-40 minutes of setup time.
AuAg really outdid themselves with this desk. It has all the features a serious gamer would need plus the strength and space for an intense gaming setup. The one downside is that the company may be hard to reach out to for manufacturing defects but based on the stellar reviews that probably won't be an issue.
Click HERE to view the RGB Z-Shape on Amazon!
---
Vitesse Racing Style (Best Choice For A Dedicated Gaming Room)
If we didn't have our DIY Desk PC in our gaming room, this would be there. The Vitesse series of desks are both popular and puzzling. With 4.8/5 stars on Amazon customers are obviously happy with the product. However, the literature that accompanies the desk contains many grammatical errors and as far as we could tell there isn't a company website.
On the other hand, they do claim a 120-day full replacement warranty, which is generous, to say the least. Some gamers may be turned off by this but the desk speaks for itself, overcoming its nebulous origins.
The Vitesse Racing Style, or VRS, is massive. A full 55.1" long with a 23.6" depth gives buyers more than enough room for a double or even triple monitor setup!
This is a beast that belongs in a dedicated gaming room as it can and will dominate the space. It's constructed with steel and PVC covered particle board, giving it strength while also maintaining a shiny sleek aesthetic.
The VRS is a split-top table, meaning the table is made of two sections that connect together. This can cause problems as the joining edges can catch on mice or snag cables. Vitesse solved this by including a full desktop mousepad.
With this, you can use your mouse on every inch of the VRS. This gives you tons of versatility in terms of the way you set your desk up. You could even have two smaller setups on the one desk!
In addition to the functionality of the mousepad, it gives the VRS a uniform texture and feel in keeping with its steel and dark PVC aesthetic.
The VRS packs a punch in the features category. In addition to the normal headphone and cup holders it comes with a USB controller rack with four extra USB ports.
Anyone who's ever done cable management knows that easy access to USB charging can make or break a gaming setup. With the VRS, Vitesse took the initiative to solve the problem for you, leaving you free to focus on gaming rather than getting lost in a forest of tangled cables.
Assembly wise the desk is pretty simple. It has two standard T legs attached to the rectangular surface so setup should only take 30 mins. Some customers reported that the assembly instructions were mildly confusing but that it was self evident what they had to do.
Regardless, the Vitesse Racing Style gaming desk is a solid choice for any gamer who needs the extra space for a massive gaming setup. Cable management is made easy with its USB charging hub and its simple design is easy to set up and incredibly stable. The one downside is that Vitesse doesn't seem to maintain an online presence in the same way that Eureka does, so customer service issues might be more complicated.  

Click HERE to view the Vitesse Racing Style Desk on Amazon!
---
Arozzi Arena (Best For Height-Adjustment)
Arozzi desks embody the concepts of simplicity and functionality. This Swedish company prides itself on its ergonomic designs that get straight to the point.
They focus on esports and pro gaming; you're here to game and to focus on the game. There are no flashy LEDs, no crazy designs, just pure and simple craftsmanship.
Arozzi maintains a strong online presence. Their website is beautifully designed and extremely informative. It even comes in seven different languages, showing dedication to their international customer base.
They offer both a manufacturer warranty and a fourteen-day return policy, allowing you to try the product out before making a final decision (though you will have to pay for shipping if you choose to return it) (source).
Arozzi makes it clear that they aren't a rebranding company, that they design their products and they aren't afraid to show them off online. Not hiding behind an Amazon storefront. Being willing to easily engage with customers should be reassuring to anyone considering buying an Arozzi desk.

The Arena is a testament to their design philosophy. The desk is just like their website, elegant, well made, and created to be used by everyone.
Measuring in at 63" long and 32" wide, it's large enough to easily support a triple monitor setup. It's also height-adjustable, allowing almost four inches of vertical displacement.
The Arena's surface is a split top tri-wood panel setup that screws into the quality steel frame. This gives it a sturdy 176 pound maximum load, more than enough for a hardcore gaming or streaming rig.
Like the Vitesse Racing Style, Arozzi included a giant, full surface mousepad to cover the joints between the surface panels. The mousepad is water-resistant and machine washable and weighs an incredible seven pounds.
Combined with its slip-resistant surface, you aren't going to have any issues with your mousepad sliding. The mousepad, as well as the desk, comes in six different colors, so no matter your setup you can find a desk to match.
One of the most impressive features of the Arena is its cable management.
Arozzi focuses on keeping things simple so organization is where they really shine.
There are three separate cutouts that lead to a built-in mesh basket under the table.
You don't need any cable ties or have to wonder where you're going to route your wires. Arozzi takes care of it all in the most elegant way we've ever seen.
The cable cut-outs serve a double purpose as monitor stand mounts, so you have tons of flexibility when you're building your setup.
So it's strong and it's organized, but is it stable? Arozzi once again comes through. Each of the two T- style legs has two trapezoidal feet. Each foot is completely adjustable in height and orientation. This gives the Arena one of the largest floor contact footprints on this list, resulting in a rock steady gaming surface.
Though it is stable we do recommend seriously tightening the foot screws. Some customers reported wobbling but this is due to the feet not being fully tightened. Once you set the desk up properly, which shouldn't take more than 30 minutes, it won't be going anywhere.
Speaking of assembly, if you have any problems with your desk, you can go to the Arozzi website where they maintain a full list of setup guides and even step by step build videos. Plus you can directly contact customer support if you are confused.
Arozzi desks aren't the flashiest, they don't have built in LEDs or USB hubs, but they are certainly the most elegant. They're designed to be a desk, nothing more, nothing less and they excel at reaching that goal.
If you're looking for a beautiful, well-made product that will keep everything organized, look no further.
Click HERE to view the Arozzi Arena on Amazon!
---
DX Racer GD/1000/N (Best Ergonomic Choice)
DX Racer is aptly named. The Michigan based company originally manufactured seats for luxury sports cars before switching to gaming accessories in 2006. They're world-famous, award-winning, and have been leading a name in gaming for 14 years.
They're so confident in their products, which they design in house, that they offer a two-year warranty on everything they produce. Plus their website is easy to find, easy to use, and contains full customer support information.
The GD/1000/N follows the same principles of design used for luxury racing cars. It's strong, comfortable, and looks like it might take off at any second.
It has a unique double triangular leg design that provides an incredibly stable center of gravity for the desk's surface. The legs are constructed of ABS plastic molded over a steel frame while the surface is naturally sourced wood.
This gives the desk an immense 110-pound weight capacity. The surface itself is 47.3" by 31.5" providing more than enough space for double monitor setup.
DX Racer focused on ergonomics for the GD. The entire surface is angled at 10 degrees to give you the optimal angle to rest your forearms. This reduces back strain by keeping your posture upright.
In addition, a 9.85" raised extended work surface provides extra support for your elbows and arm joints. These features make the GD the most comfortable and ergonomically designed desk on this list.
When it comes to cable management the GD couldn't be better. It has four separate large openings for wires.
This allows you to route cables wherever you need them so you'll never have to use cable ties to keep wires from cluttering the surface of your desk. This is especially useful considering the GD has a raised perimeter on three sides, so you can't just drape cables off the edges.
The raised perimeter keeps all your desktop pieces on your desktop while the cable management options keep everything looking tidy.
In addition, the back of the desk comes equipped with a carbon fiber cloth that further hides wires and adds to the race car aesthetic of the desk.
Speaking of aesthetics, the desk comes in three separate colors, allowing it to match your other gaming components.
The GD has the same trapezoidal feet as the Arozzi Arena. They can be rotated 360 degrees and are height adjustable. Combined with the triangular leg design, the GD/1000/N is an incredibly stable desk that can be set up in even the most difficult spaces.
Assembly-wise the desk is superbly simple with detailed documentation; again the normal 30 mins construction time should be more than enough.
The GD/1000/N isn't the largest or the most feature-filled desk on this list but it is one of the most striking.
Its angular aesthetic, unique ergonomic design choices, and focus on functionality combine to create a truly elegant and attractive desk. It could find a home in a dorm or a dedicated gaming room and would be a great choice for either.
Click HERE to view the DX Racer GD/1000/N on Amazon!
---

Walker Edison Soreno (Best Choice For An Elegant Gaming Solution)
Walker Edison is a home furniture business that is turning heads in the gaming desk market with its L-shaped desks. Like Arozzi, Walker Edison has a great website that gives buyers insight into the company's design philosophy.
Based in Salt Lake City, Utah, Walker Edison has a team of in house designers whose focus is creating modern home furniture at affordable prices. Their customer service is on point with same-day responses and a replacement part guarantee for all defective merchandise.
The first thing you notice about the Soreno is its beauty. Unlike the other desks on this list, the Soreno is built of tempered 6mm safety glass and powder-coated steel. Aesthetically it wouldn't be out of place in a CEO's office or a nice apartment.
It has an L-shape design meaning it can fit comfortably in smaller spaces. The surface is built of three pieces of glass, two 21" wide rectangular plates and a quarter circle joining plate giving it a total length of 51". It doesn't come with a mousepad so you will have to watch out for cables snagging on the joints.
The legs have the same Z-style design as the Z1-S and the RGB Z-Shape, giving the Soreno improved structural stability. In addition each of the four legs has a steel counter support and crossbar added to it.
Combined with its L-shape design, this makes the Soreno one of the most stable desks on this list, with almost none of its Amazon reviews mentioning any wobbling.
The L-shape surface does allow for double and triple monitor setups when the display mount is placed in the corner of the desk. Plus the reflective glass gives the desk a futuristic vibe especially with multiple monitors shining on it at once.
Similar to the Arozzi Arena, the Soreno is designed to be simple and elegant and so lacks the LEDs, cupholders, and headphone mounts common on other desks. It does have a sliding keyboard tray which allows you more desk space for monitors and other gaming devices.
However, if you are using more than one monitor you might have to abandon the sliding tray. It is aligned to one side of the desk which isn't large enough by itself to accommodate multiple displays. That said the Soreno does provide an autonomous PC stand to keep your machine off the floor. This improves air circulation and cable management.
Finally, the Soreno is modular and can separate into two desks. This allows you the most flexibility of any desk on this list in regards to desk positioning and gaming setup.
In terms of assembly, the Soreno is simple. There are comprehensive instructions included with the desk and setup videos on the Walker Edison website.
You will need to exercise a little more caution in the setup process than with other desks since the surface is made of glass.
The total setup time is 30-40 minutes.
The Soreno is a great choice for anyone looking for an all purpose desk that fits with any aesthetic. It finds a home in small spaces and can be reconfigured to fit any space necessary. It might not have all the flashy features but it is a solid desk from a solid company and a good choice for any gamer.
Click HERE to view the Walker Edison Soreno on Amazon!
---
Conclusion
We've reviewed a wide range of desks from the ergonomically angled GD/1000/N to the LED light show that is the RGB Z-Shape. Every desk on this list is an excellent choice for any gamer.
However, it is important that you consider your personal situation. The Arena is beautiful and sleek but it doesn't have all the useful features of the Z1-S. The Soreno embodies glass and steel modernism but the Arena is properly built for a triple monitor rig.
Whatever the choice, you can use our guide to help find the perfect desk for your needs. And if none of these quite fit the bill for you, consider building your own computer in a desk with our step by step guide.