Accessorizing your gaming desk is all about adding your personal touch and giving it that tricked-out look, as well as adding additional enhancements and features, of course.
The best gaming desk accessories include:
Wireless headphones or gaming headset
Quality Speakers with subwoofer
Dual or Triple monitor setup
RGB Mouse and Keyboard
Built-in wireless cell phone charger
Built-in Amazon Echo
Built-in USB hub
LED lighting
Gaming chair
Let's have a look at how each of these can complement your setup and see what else we can come up with to make your PC gaming experience the best it can be.
As you may know, I am all about encouraging and helping guide you in building a custom computer in a desk setup. But once we've accomplished that, there is still a lot of fun and exciting ways to spice up your PC experience, whether it's battling others in an online war or burning through video renders for your latest production. Whatever your computing addiction, accessorizing your build is where you really see a return on investment in the sheer experience of day to day use.
Wireless Gaming Headset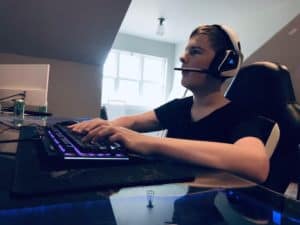 There's nothing like going wireless when you are going into battle. For years I watched my son struggle with wires from his gaming headset getting caught on the armrest of his gaming chair. It was a frustrating experience for him but honestly, he didn't know there were options. That is until we came across the Corsair Void PRO RGB wireless gaming headset. These bad boys support Dolby 7.1 surround sound with memory foam ear support for extreme comfort during long gaming sessions. The microphone works flawlessly and actually mutes automatically when you push it up and out of the way which is really cool.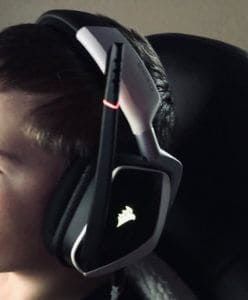 It worked right out of the box with no special software installation required. Just plug in the included USB wireless transmitter and get to gaming.
I'll admit to being a bit of an Amazon Review obsessive. I read every review and carefully analyze whether a negative review represents an actual design flaw or a preference/presumed feature on the part of the reader that was not met. I scrolled through countless reviews on wireless gaming headsets and actually tested two others before settling on this one. It's far and above one of the best accessory purchases that we have made for him. Below are a few key points to know about these headphones.
Surround Sound – There are speaker systems with actual surround sound and virtual surround. These provide virtual which is fine for those on a budget. If you want to really go all out you can get wireless gaming headsets with actual surround but they are ridiculously priced.
Build Quality – The headphones are sturdy and feel to be a quality build. They connect wirelessly to your computer through a USB transceiver and we experience no loss of signal during use. I would have returned them if they did.  
Charge Time – I read a lot of mixed reviews on this and I'm not sure if some folks occasionally receive a bad set from the manufacturing line or if people just expect too much. My son is a hardcore gamer and spends all weekend upstairs in the gaming room playing video games, chatting with others on Discord (by the way, this headset is Discord certified), and working on his computer programming skills. After a couple of months of use, he said that he only very rarely has to charge it again by Sunday afternoon. Usually, it will last all weekend and that is with extensive use.
Software – Although the headphones work just fine with the built-in drivers that come with Windows, Corsair does have a software program that can be downloaded and installed to customize the experience. We have a compatible Corsair mouse and/or keyboard (more on those below) and the software can customize and sync the RGB LED lighting for all of the compatible peripherals. Sweet!
Wearing with Glasses – My son doesn't wear glasses but I wear cheaters occasionally for reading. There is no problem wearing these headphones with glasses on.
Click here to get the latest pricing on Amazon for these wireless headphones.
Quality Speakers with Sub-woofer
Audiophiles will seek me out and mean to do me harm for this, but for the money, we settled on a Logitech 2.1 speaker system. Yes, the Bose Companion 5 Multimedia Speaker System sounds amazing as do plenty other premium speaker systems but a 13-year-old gamer who spends the majority of his time with headphones on, there was simply no reason to invest that amount of money. Dollar for dollar I could not be more pleased with the rich sound that comes from his speakers on the rare occasions that he uses them. The model we purchased has been discontinued but the Logitech Z623 400 Watt Home Speaker System is the current version that is comparable, complete with a subwoofer for that deep bass.
Here are a few of the key specs that may be of interest to you:
400 Watts Peak / 200 watts consistent – Crazy volume capability that is probably more than you will need but with higher peak wattage comes higher volumes that can be played without distortion.
THX-certified – If you intend to watch movies on your monitor, THX-certified models of speaker systems are designed to really bring the movie experience into the home.
Subwoofer with a 7-inch driver – There was a time when two small desktop speakers were sufficient for playing Tomb Raider or other 1990 era games but these days, a subwoofer is a must for bringing the bass. And when playing tunes it adds depth and richness to the listening experience.
Up to Three Audio Devices – This system includes both RCA and two 3.5mm inputs so you can actually hook up a gaming console or turntable (well, you could) in addition to your computer and maybe your cell phone. More options are always better.
Bass and Volume Controls – I love the addition of the bass control. Being able to fine tune the lower sounds really allows you to dial in just the right amount of base for your particular listening environment and preference.
Dual or Triple Monitor Setup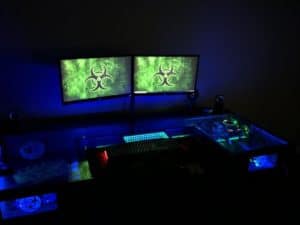 If you are still gaming on a single monitor setup, I don't need to tell you what you are missing out on. I've watched my son play games in dual monitor mode or play on one monitor while he's chatting in Discord on the other and it's enviable… so much so that I have since upgraded to dual monitors in my office.
Deciding on whether to go to a triple monitor setup depends a great deal on the capability of your graphics card. Our current card does not even support triple monitor setup and to be honest I don't envision a need for this anytime soon.
We purchased the VIVO Dual LCD LED Monitor Desk Mount Stand from Amazon that allows for securing the mount either with the included clamp or by drilling a hole through the top of the desk and securing it underneath (we chose the latter option for a more custom look). The mount is very solid and sturdy and allows for the monitors to be positioned just the way he likes them. It was very inexpensive and as a bonus, it allowed raising the monitors to eye level while freeing up desk space where the monitor stands would have been. Win-win!
RGB Mouse and Keyboard
I learned a lot when we began to accessorize my son's desk PC with peripherals. While it may seem like you can just go online and pick a keyboard from this company, a mouse from that company, and plug them all in and go at it, RGB lighting adds an important consideration into the mix. I wrote all about this in How To Add Synchronized RGB Lighting To A Desk PC Or Gaming Setup, but the bottom line is it makes life much easier if you buy all of your RGB capable peripherals from the same company. When all of the devices use the same RGB software, you can set up profiles and, with the click of the mouse, change the color schemes to all peripherals simultaneously. It makes life so much better!
So we went with the Corsair RGB model for our keyboard and mouse so that we can sync the RGB LEDs with his headset. The CORSAIR Strafe RGB MK.2 Mechanical Gaming Keyboard and the CORSAIR M65 Pro RGB gaming mouse are true gamer-level devices and my son has been extremely satisfied with them from a performance standpoint. The ability to synchronize RGB lighting between them is icing on the cake.
I mean really, if you are going to customize, then customize, right? 🙂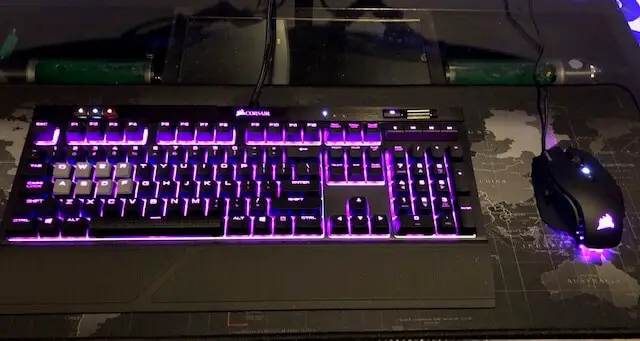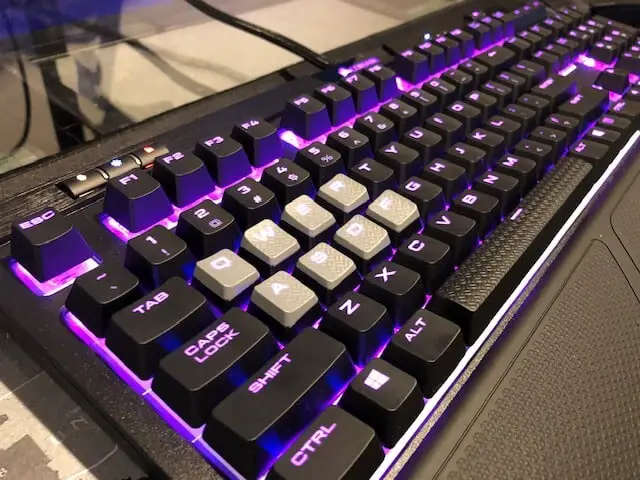 Advanced Desk Modding
When you really wanna mod out your gaming desk, installing built-in peripherals is a sure-fire way to make your desk stand out from the crowd.  Below are two ideas for taking your desk to version 2.0.
Built-in Wireless Cellphone Charger
Installing a Qi-Certified wireless cell phone charger like the Yootech Wireless Charger is a great way to customize your desk while at the same time adding some charging goodness for your compatible cell phone and getting yet another cable out off of your workspace. The trick to doing this is to first determine how thick of a wood surface the charger will push a charge through and then routing a mounting hole on the underside of the desk to that depth. It's more of a complicated upgrade but a great way to bring your desk into the modern tech-infused century.
Here's a short 2-minute video from YouTube where the author demonstrates the concept and process.
Built-in Wireless Amazon Echo
Somewhat easier than the wireless cell phone charger because the hole goes all the way through, this mod involves cutting a hole and securing the Amazon echo on the underside so that it is flush mounted with the top of the desk. The size of the hole will depend on which generation of the Amazon Echo you have. An easy option for those with the 2nd generation Echo may be to use the Voice Dock which is a flush mount cover. While this would be a good idea for a wall mounted approach I'm not really in favor of it for a desk mount as it is not truly flush.
In any case, do some research regarding your Echo's model and specs if you are interested in this. We have a 2nd gen version and plan to add it to our custom desk PC case.
This YouTube video may be worth watching. Although the author is going over installing an Echo into a ceiling, the same process could easily be applied to a desk.
RGB LED Lighting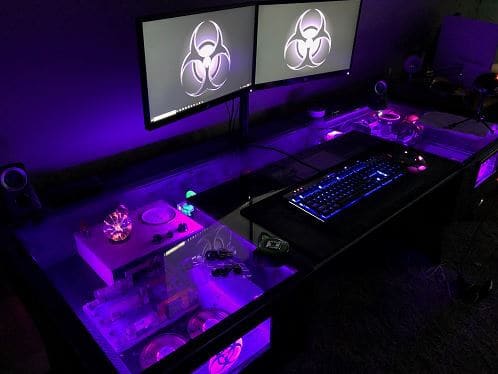 Nothing screams "I love my gaming desk" like indirect lighting that makes your gaming desk look like it's something out of a sci-fi movie. The easiest way to get this look is to place the RGB LED strip on the back underside of your desk or actually on the back so that it glows against the wall. Adding a matching strip to the back of your monitors can give additional pop to this look. Most models of LED strips come with a simple remote that allows you to change colors or set it to change automatically. There are often flash options but those can get really annoying during extended gameplay. My recommendation is to choose a model that allows you to adjust the brightness like the LED Strip Lights Kit from TBI Pro so that the lighting is an accent and not a glaring intrusion. These can be cut to length for your desk and are a great upgrade for a boring workstation. (If you really want some LED lighting goodness, consider building a PC in a desk with the RGB LED lights shining down on your computer components – just saying).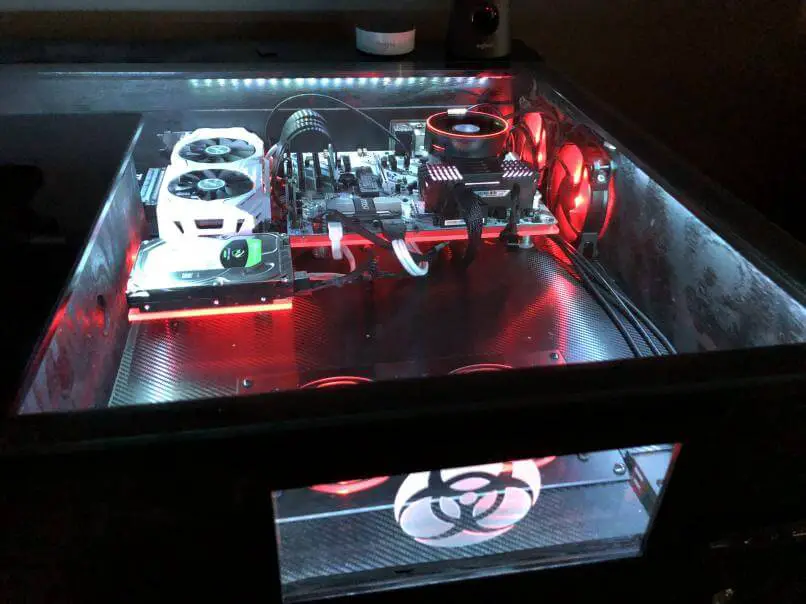 Oh and by the way, if you do decide to go with the Corsair line of keyboard, mouse, and headset, Corsair also makes an RGB connection hub called the Corsair Fan Controller Commander Pro that hooks into your computer to sync the lights in your computer with your peripherals using the same software mentioned earlier. And yes, though its named "fan controller" it will control RGB lighting on not only RGB fans but on compatible light strips as well.
So think about that for just a minute. With one click you change the color scheme of the lights in your PC, your headphones, mouse, and keyboard all at the same time.
Next Level customization!
Gaming Chair
When it's all said and done, you will spend your time staring at a monitor or two, clicking away at a keyboard and mouse, talking and listening on a headset, and sitting your butt in a chair. If there is one true way to improve the day to day gaming experience it is with a quality gaming chair.
Search long and hard, read the reviews, and when you are done you will likely end up where we did, with the BestOffice High-back Computer Racking Gaming Chair. We purchased this one off of Amazon and my 13-year-old put it together by himself (there are shots of him doing this in the time lapse video of our desk PC case build).
Like anything else, there were much more expensive options out there that probably added increased comfort, fancy features, and who knows what else but the essentials of what we were looking for were found in this chair and at a significant cost savings over the other options we considered. The armrests are really sleek looking and lift up and out of the way when not in use.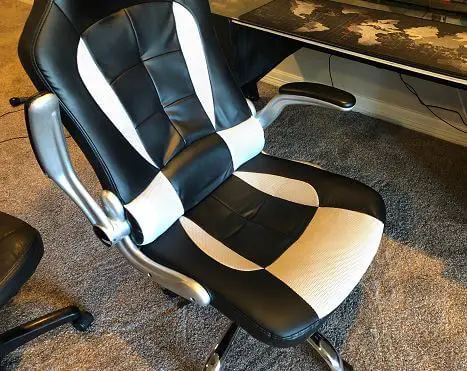 The chair raises, rolls and swivels buttery smooth. It would probably be smart for us to invest in one of those hard plastic floor mats that protect the carpet from the rolling wheels but we haven't as of yet. The controls are easy for my son to reach and control to manage the height.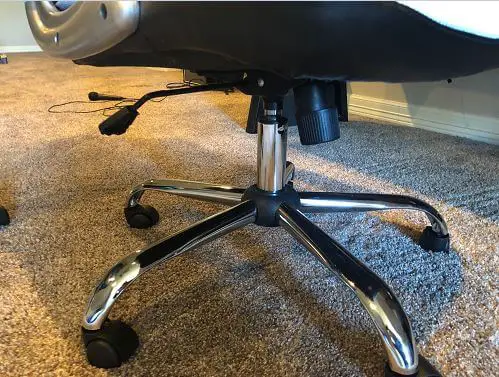 It comes with a removable headrest. My son prefers to sit without it but I find it very comfortable to have that neck support. Either way, it's removable so that aspect can be customized to your preference.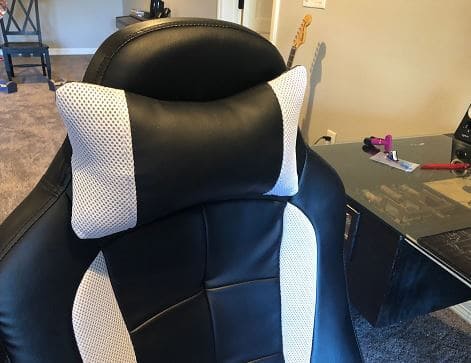 Again, your budget will decide the level of luxury that you are willing to invest but if you are looking for a comfortable and sleek looking gaming chair at an affordable price, the BestOffice High-back Computer Racking Gaming Chair is the one to beat based on our research and personal use.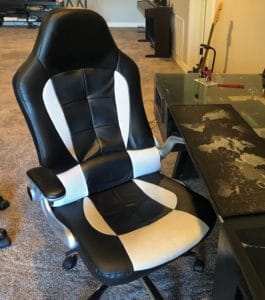 Tips for Styling and Profiling Your Gaming Setup
When you are accessorizing your gaming desk, it's a good idea to have a general theme in mind. Rather than mix-matching a bunch of cool accessories, identify a theme and stay true to it. I've written previously on creating a theme for a desk PC case but the same general principles apply to a traditional desk that you are theming out as a gaming battle station.
Along these same lines, purchasing accessories that are consistent with your system's color scheme will enhance the looks of the setup as a whole. PIck a color combination and stick with it.
Finally, take the time to manage your cables. There are a ton of great cable management accessories for your desk out there. A clean, organized setup absent of mangled wires goes a long way in the presentation of your setup.
If You Mod It, Share It
So that's it. My best recommendations on pimping your gaming desk setup. Use some of them, all of them, or tell me I'm full of it. Just do me one small favor. If you make any upgrades to your system based on these recommendations, send me some pictures so that we can share them with the community. We are all looking to learn and grow inspiration from each other. Together, we will inspire a revolution of PC desk modding. Or, at the very least, we will all drool in envy at each other's creations. And maybe, in the end, that is enough.