One of my favorite unusual mods for a desk PC is adding built-in wireless cellphone charging capability. My son and I have wanted to try this for some time but, until recently, this was somewhat of an extensive mod project as it required using a router to route the desktop out from the bottom to retro fit a traditional Qi charger. But that has changed!
Using a special Qi charger and a hole saw, you can flush mount a wireless cellphone charger into your desk with minimal fuss. The key to this hack is a special wireless charger designed specifically for this purpose.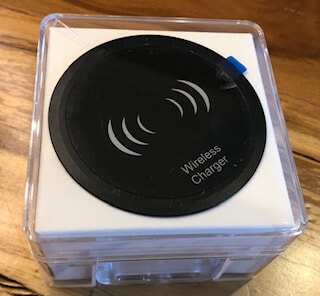 Let's look at how simple and easy it is to install a wireless charger into your desk.
Why Install Built-In Wireless Charging Into Your Desk?
Not everyone needs wireless charging and certainly, not everyone needs a built-in wireless charger installed in their desk. For many, plugging their phone into a cord and letting it lay across their desk is just fine. I understand that.
At the same time, many people like myself want to customize their workspace to be as clean, organized and non-distracting as possible. For those of us who value such a clean workspace, the elimination of unnecessary cords is an almost zen-like experience.
There is also the added convenience of not having to look for a cord every time you realize your phone's battery is running low. My family, for example, seems to constantly be wandering around in search of USB cords to power their phones, usually looking to me, as the perceived cord master of the house, to solve their problem.
Installing a built-in wireless cellphone charger in their desks and maybe even a couple of nightstands would easily eliminate this issue.
A third reason to consider adding a built-in wireless charger in your desk is the passive assurance that you gain in keeping your phone charged without having to think about it.
By simply getting into the habit of placing your phone in a certain place on your desk while you are working, you are ensuring that your phone is receiving a steady charge while you are focused on other tasks.
So when you reach for it, you don't have to worry about seeing the "Low Battery" warning right as you prepare to take a phone call (and spent the next few minutes distracted from that call while you are searching out a power cord).
Why Not Just Use A Desktop Wireless Charger?
Wireless chargers that sit on your desk are becoming more commonplace and they do offer the benefit of wireless charging. When it comes to a custom workspace or gaming setup, however, these charges still have one main issue – the cord running from the charger to the wall.
Depending on where you place your charger, you will have an unsightly cord strewn across your workspace. Since wireless chargers tend to charge your phone slower than a traditional wired charger, I tend to believe that I'd be just as well served in that case by just plugging my phone in and charging it directly.
Still, the technology and option to charge wireless is appealing if somewhat imperfect in this situation.
The Hard Way To Add Built-In Wireless Charging
In the past, I have been really taken by the skills and ingenuity of DIY enthusiasts who have used these traditional wireless chargers to create built-in solutions for their charging needs.
What's really cool about the way they do this is that you end up with an "invisible" wireless charging solution for your desk, nightstand, or wherever you choose to install it. The concept is simple though the execution is somewhat more complicated.
The process involves first determining how thick of a piece of wood the charger will feed a charge through by testing it through different thicknesses of wood.
Then, working from the bottom of the desk, you route a hole out for the wireless charger that is deep enough to permit the charge to happen but not so deep that it cuts a hole all the way through the desk.
It's a tricky hack but the results are really cool. You end up with a wireless charging solution that is completely invisible from the top of the desk.
The New And Simple Way To
Add Built-In Wireless Charging
There is a new and much simpler way to add wireless charging to a desk. It falls somewhere in the middle between just plopping a wireless charger on top of the desk and routing out an invisible charging port from the bottom.
These new flush-mount wireless chargers allow you to eliminate the wire clutter from your desk or nightstand without the hassle of routing from the bottom and fearing cutting too deep.
The key to these new flush mount chargers lies in a small lip around the top that allows it to be dropped into a pre-cut hole in the desk and the routing of the cable out the bottom instead of the side of the charger.
These minor adjustments to the design of these wireless chargers make them the perfect "drop-in" solution to add flush mount wireless charging to your desk or nightstand.
Installation
Installation is a breeze and probably the biggest benefit of this type of charger.
Using a 2-3/8″ hole saw, simply bore a hole through the desk at the location where you want the charger to be. Before drilling, take a look under the desk and make sure that your hole is not going to interfere with anything such as a corner brace or leg.
Next, Simply insert the charger into the hole from the top, cord first. Once the cord is through the hole the charger will sit flush on top of the desk by the lip that is built into it.
All that's left at this point is to plug the charger into an outlet and rest your phone on it to begin powering!
I love simple solutions to common challenges and these new flush mount wireless chargers absolutely hit the mark when it comes to getting a custom look on a budget without a ridiculous amount of work.
Recommended Flush Mount Wireless Cellphone Charger
I am currently using this model that I found on Amazon. It seems to be pretty well made and I wanted one that was Qi-certified with the full 10 watts charging capability. I appreciate the LED lighting that tells me that the phone is actively charging.
Nothing could be more frustrating than leaving your phone on the charger for a couple of hours thinking that it's charging just to find out that it wasn't.
I also appreciate that the charging cable is a regular USB cable. That means I can plug it into the wall or, if I want to incorporate this into a future Desk PC build, it can actually connect to the motherboard or power supply using an appropriate adapter cable.
Incorporating this into a Desk PC case build, or even just a regular desk, could really be nice. Considering the amount of time spent at a desk each day, it would be amazing to just sit the phone down and know that the battery is staying topped off. Best of all, it eliminates the need for a charge cable on the desk and anything that makes a desk look cleaner and more organized is a winner in my book.
I think these would be great for nightstands, office desks, TV stands, or anywhere that a low profile charging capability would be beneficial (which is just about everywhere).
Click here to check the current price of this flush mount wireless cellphone charger on Amazon.
If you need a 2-3/8″ (60mm) hole saw for installation, have a look at this one at Amazon that includes a 5 pack of cable grommets.
This would allow you to use the same hole saw to add some cable management grommets to your desk to route monitor wires, keyboard and mouse cables, etc. If you don't need the grommets, you can purchase a hole saw by itself on Amazon for this size by clicking here.
If you really want to step up your desk design, consider building a computer into your desk. Have a look at my step by step guide.