Response from Vector Custom Design confirms continued manufacturing and marketing of their Desk PC Case product line!
I recently published a review and cost analysis of the top manufactured desk PCs on the market. There were some unknowns in relation to the Vector Desks, specifically the availability and future of the Vector Mini. I had reached out to the manufacturers, Vector Custom Design, prior to publication but unfortunately did not receive a response prior to posting. 
I have now received a response to some of the questions that I'd asked and wanted to share the essence of those responses with you. 
Vector Desk Mini – Availability and Future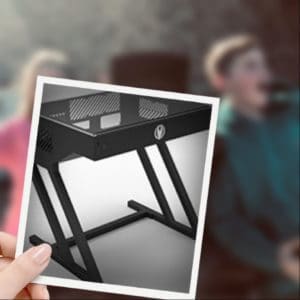 One of the questions I'd posed concerned my dismay over the URL for the Vector Desk Mini being broken on the company's website and the lack of mention of this product at all on the company's product page. 
I'm happy to report that Vector has informed me that the Desk Mini continues to be an active product and that their focus is heavy metal manufacturing and that they have not put the effort into website marketing to keep the website up to date. 
 So, it is good to know that the Desk Mini is still out there. Getting it, however, may be a challenge, which leads us to the next topic…
US Distribution
Another question I had for Vector concerned whether or not US distributors existed that would allow for those of us in the United States to purchase these desks easily. Unfortunately, Vector confirmed what my initial research had shown, that they do not as of this time have any distributors in the US. They did confirm that US customers can purchase directly from Vector but reported that shipping can cost an additional $500 US based on their previous customer dealings in the United States.
This is disappointing as it could definitely be a deal breaker, especially when you are looking to the Vector Mini as a cost-saving alternative to a full-sized desk PC case. I'm hopeful that Vector will be successful in securing US distributorships in the near future as the US market has proven to be a fertile area for innovative PC case solutions. 
I'm sure that they are working toward this goal but as of this time we are out of luck when it comes to US distributors of the Vector Mini. 
Ongoing Development and Enhancements
I inquired specifically as to whether or not the company was continuing with active development of the Vector Mini and related Desk PC products and if they could offer any teasers as to what new features we may be able to expect in the future. 
Vector has confirmed that not only do they continue to pursue the Vector Desk product line, they are also conceptualizing a clean and simple desk PC design that is focused on affordability. Vector describes this concept as a "Desk PC modders kit".
There's no word on when such a product will be available but it is exciting to know that Vector is committed to the Desk PC product line and continues in its efforts to innovate and promote this market. 
Unanswered Questions
While Vector was able to speak to the lack of updating of their company website, there are a few questions that my contact was unable to provide answers for. 
First, there was no response to my question of whether or not the company has a YouTube channel that highlights product overviews. If such a channel existed, I wanted to share it with you for your own research purposes. I did, however, confirm that Vector has a Facebook page that includes at least some product photos and videos. Desk PCs are not the company's only product line and in fact would not appear to be their primary focus but you will find pictures and videos of what they are showcasing. The link to their Facebook page is www.facebook.com/vectorvhwl
I had hoped that the company could provide airflow demonstration videos showing the effectiveness of the intake and exhaust placements on the Vector Desk. As I noted in my initial review, I have concerns with the system's approach to intake air from the sides and exhaust out the back. My research on this has shown that this approach often results in pockets of air that do not circulate well. A video demonstrating the effectiveness of airflow using a smoke machine could easily validate or dispel this concern but the company was unable to point me to one. 
Summary
All in all, I am enthusiastic that Vector continues in their pursuit of producing quality Desk PC cases. I'm hopeful that US distributors will pick up their product line in the near future. I also look forward to the low-cost desk PC solution somewhere in our future that the company has hinted at.
There are very few manufacturers actively researching and developing Desk PC cases. Vector has some intriguing and innovative offerings on the market with the Vector Desk and Vector Desk Mini and I am hopeful that we will see even more from this company in the years to come. 
Of course, I started my journey into the world of Desk PCs with a DIY build and that is a low-cost solution that is available to you as well right now. If you are interested in beginning the journey of designing and building a Desk PC of your own have a look at this post on design to get you started.
This post is a followup to my original review and cost analysis post of manufactured desk PC cases. By comparison, I also published a post on how much it costs to build a desk PC as a DIY project.