Recently, I published a comparative analysis on a few of the most prominent manufactured desk PC cases on the market and the Lian Li DK-05 was the runaway winner, offering electronic height adjustment, individualized RGB controller knobs, and a sleek, clean look that is just plain enviable.
If only there was someone who actually owned one of these amazing desk PC cases, someone who had built a custom enthusiast level setup in the Lian Li DK-05 and had the insight into what that building experience is actually like.
If that's what you desire, then get ready to drool!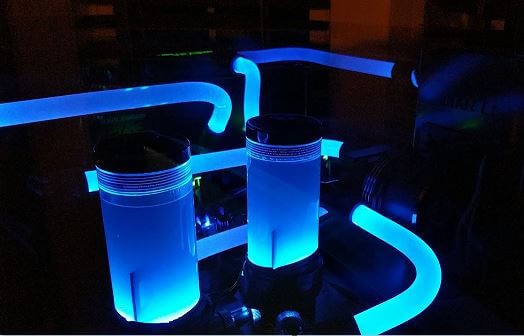 John Althouse custom built an amazing liquid cooled computer in the Lian Li DK-05 Desk PC case. The results are truly awe-inspiring. In this interview, we'll explore John's interest in building in a desk PC case, the motivations behind choosing the DK-05, and his recommendations for someone considering this case for their next build. John will also give insight into any challenges he faced in the build as well as what his recommendations would be given the opportunity to consult for Lian Li on the next iteration of this product line.
Before we begin, take time to watch this timelapse of the unboxing and assembly of the Lian Li DK-05 Desk PC case that John posted on his YouTube Channel. The video is less than two minutes long.
Now, let's find out what insights John can provide on this amazing desk PC case.
What originally sparked your interest in building in a desk PC case?
I custom build my computers and spend a lot of time custom bending the hardline tubing and having all of the components aesthetically match a theme that accentuates the processing power inside. However, these cases ended up being quite large meaning I needed to keep them on the floor if I wanted to maintain desk space. And in being on the floor, it was difficult to see what was going on inside. Having the computer inside the glass-top desk allows me constantly see what's going on. I also liked the idea of not having a large box on the floor or on my desk, it really does save a lot of space. But most importantly, it just looks super cool having the computer glowing under my monitor. I find myself staring at it while contemplating solutions to projects that I'm working on, one could say it's inspirational. 
What were the final purchasing factors that made you decide on the Lian Li DK-05?
A professionally made and thought-out Desk PC Case was always what I was looking for. Just sourcing, testing and building all of the components and water-cooling into this desk took 3 months. If I had tried to build the desk itself as well, it probably still wouldn't be complete. I was probably the first to purchase the DK-05 on release day as it was exactly what I was looking for. The DK-04, as well as Lian Li desks before it, were more of a PC Case that's also a desk. The DK-05 is a desk that's also a PC case. It's huge in comparison – it's a full-on desk with plenty of surface area for a large monitor, your laptop, papers, files, you have room to work on this thing. Also doubling as a sit-stand desk makes it great if you're the type that likes to move around during work meetings. 
Inside, it has room for two EATX motherboards. I only needed one PC so I built it on one side of the desk, using up the middle space for water-cooling. My work laptop sits on top of the other side of the case, so I can't really see into that side anyway. I imagine one could build a PC that spans across the entire case, but I decided against it, just in case I wanted to use that side for a second computer in the future.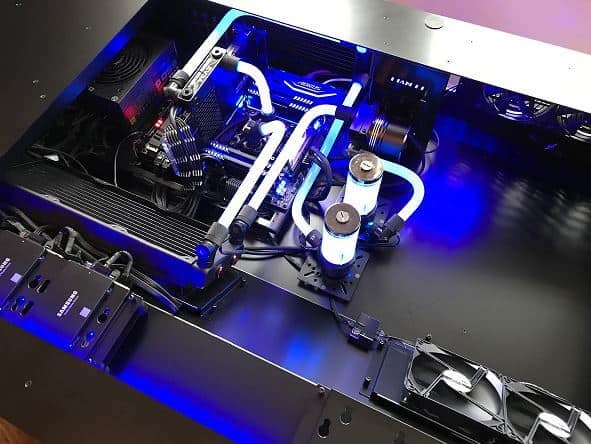 Did you encounter any issues with building in this Desk PC related to its design and layout?
Lian-Li is amazing. Every time I ran into a problem where I thought, "oh no, they didn't account for my use case and I'm going to have to mod it," I found accessories in the box that allow me to do that thing that I wanted, or that part of the case could be moved, etc. It really was a joy to work on something so thoughtfully designed. 
What would you say is the most beneficial feature of the DK-05?
 There are so many great aspects of this case, the thoughtfully designed fan/radiator mount points, the hard drive mounts, the cable management options, the sit/stand functionality. But the thing that stands out to me and others that see the desk is the quality and thickness of the tinted tempered glass. It's just a beautiful surface to work on.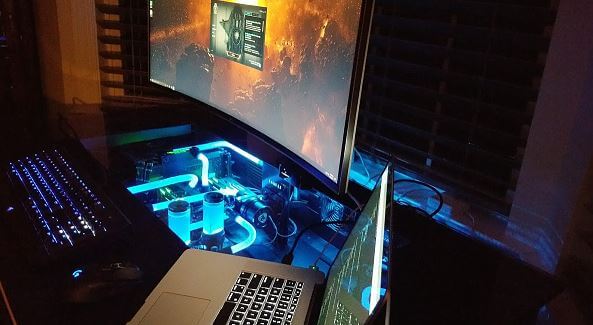 If you were consulting with Lian Li on the next generation of Desk PCs, what modifications or additional features would you recommend that would take this desk to the next level?
The only problem I have with this desk is that the area between your legs and the keyboard is pretty thick, that's where the hard drives go. Big and tall users may find issues here. It's an annoyance for me though not a deal breaker. I would recommend Lian-Li redesign the DK-05 (or make it the DK-06) so that the middle of the desk, where someone's legs would go, is thin. Having space for the motherboard on one side and the mounting points for other things, like hard drives, water cooling, etc. on the other side – essentially turning it into a 1-Motherboard case which should be fine for literally everyone. They may have to make the desk a little bit larger to make it work but, why not, it already ships on a pallet 🙂
Assuming one has the financial means, would you recommend the Lian Li DK-05 as a Desk PC solution?
The DK-05 is really not that expensive when you consider how much a quality sit/stand desk of this size with machined parts and a glass top would cost. Then if you were to add a quality PC case to that, the costs would be pretty similar. So, if you're looking for a new desk, especially a sit-stand desk, and you're neither big nor tall, and you're looking for a new PC case, look no further. This is it and it is fantastic.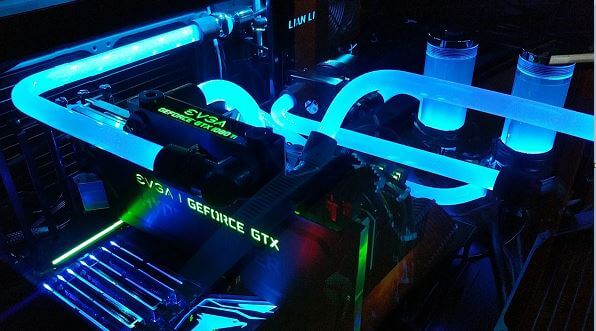 PC Specs
This was built about 1 and a half years ago so it's almost time for an upgrade 😉
CPU – Intel i7 7820X (8c/16t, 28 pci-e lanes) delidded with liquid metal, OC'd to 5GHz all cores. 
RAM: – 32GB CORSAIR Vengeance DDR4 3466Mhz 
Motherboard – Gigabyte Aorus X299 Gaming 9
Graphics – EVGA GTX 1080 Ti SC2 Hydro Copper
Storage – 2x 1TB Samsung 970 Evo NVMe, 2x 500MB 860EVO SSDs RAID 1
Power Supply – EVGA Supernova 850 GS, 80+ Gold 850W
Radiators – XSPC EX480 + XSPC EX360 ( 7x 120mm worth of radiator space )
Pump – PrimoChill D5 with Singularity cover
Reservoirs – 2x Phobya Balancer 150 – Black Nickel
Tubing – Thermaltake Pacific PETG
Fittings – Thermaltake Pacific RGB
Monitor – LG 38UC99 38″ 3840×1600 21:9 75hz IPS
Keyboard – Razer BlackWidow Chroma
Mouse – Logitech G900 
Pad – CORSAIR MM200
About The Builder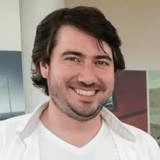 I work in cyber threat detection so part of my use of a powerful system with lots of cores is so that I can run multiple VMs simultaneously to test out new ways of hacking and how to detect them. Also, games, lots of games. I've been building my own computers for well over a decade, each with increasingly more exotic levels of water cooling. The current project I'm working on is building an aesthetically awesome server room in my basement, complete with a tempered glass window to see inside from the normal basement area. My next project after that will be to upgrade the DK-05. I'll likely end up building a water cooling system across the entire desk this time with 13x120mm of radiator space, I should be able to passively cool the entire system – no fans!
Special thanks to John Althouse for sharing his insight into the Lian Li DK-05 as well as photos and videos of his amazing build. View all John's YouTube videos and subscribe to see future projects at John's YouTube channel. John can be contacted on Twitter at @4A4133