The idea of building a computer inside of a desk is fascinating to many PC enthusiasts but few actually take on the challenge. When they do, however, we often see these unique individuals create something amazing. This edition of Builder's Spotlight is no exception.
This article is part of a series of Builder's Spotlight interviews, the purpose of which is to focus on real people who take on the challenge of building their own computer-in-a-desk setup. Without the help of official sponsors or build teams, these individuals show that a DIY Desk PC is within the reach of anyone who is committed to being a part of the Desk PC Revolution!
Damon Beldner set out to create a Star Wars themed Desk PC that was unique and specifically crafted to his needs and personality. Designing his build around a glass top that he had available to use, Damon built a clean, modern looking DIY Desk PC that is uniquely his own. Codenamed Project Stormtrooper, this build measures in at 60 inches wide, 35 inches deep, and 32 inches in height. This beast is built for serious gaming and productivity.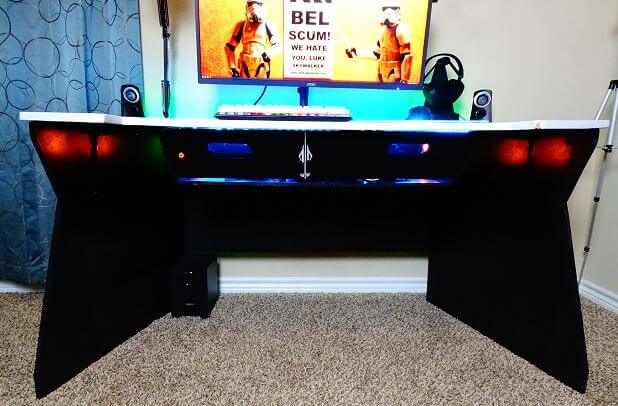 Let's delve into this build with Damon and see what insights we can gain into his design considerations for Project Stormtrooper.
What inspired you to build your own desk PC?
My channel has consisted of a lot of different builds and my desk setups have changed like almost every other month because I was never fully satisfied with what I had. I have always been fascinated with desk PCs but never thought that I would be able to afford one or just have one. I decided to just bite the bullet. I would build my own custom desk and make it my own. Every day that I turn on my desk I know that no one has my desk or the parts configuration like I do. I'm satisfied with my setup finally.
Did you use 3D software to mark up your design or did you draft it on pen and paper?
Pen and paper were used for my first draft. Then I moved over to 3d Paint Shop where I looked at what my design could look like.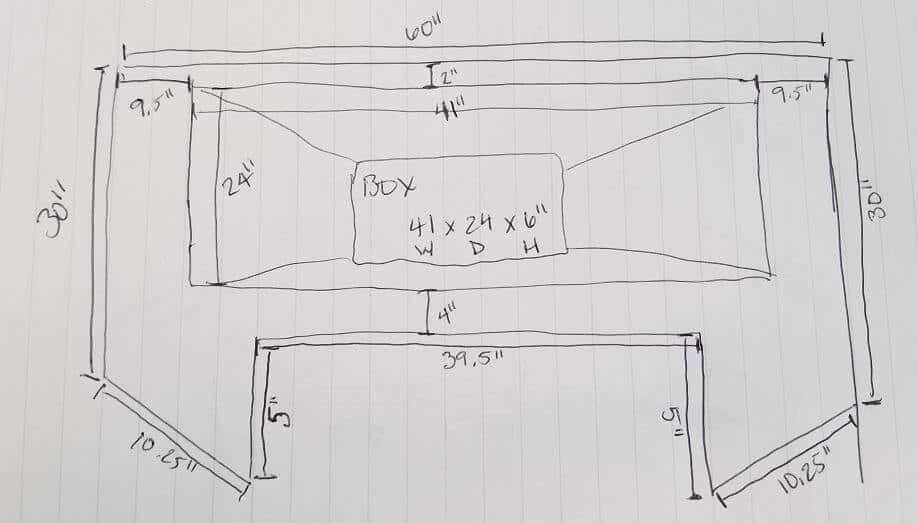 Can you briefly walk us through the build process for Project Stormtrooper?
First steps of my process were to see what type of wood I wanted to use. I went with MDF for the whole desk. Next, I drew up the design on paper then took measurements of the glass I had, because I was designing this desk completely around the glass top.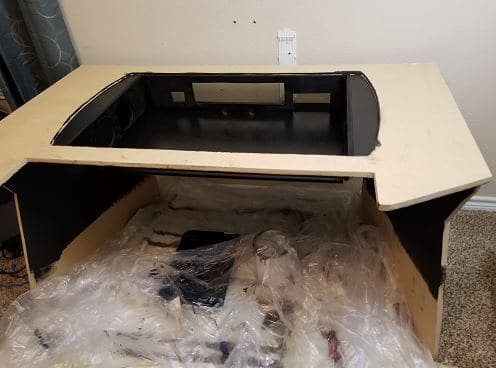 I knew what I envisioned at the start but as anyone who does any custom work knows, things change fast. The hardest part of this build was the placement of the fans. I wanted great cooling and also wanted all my parts to fit with some breathing room. So that posed a challenge when thinking of air flow. In the pictures, you can see I made the legs at a 45-degree angle and that was by design for air flow.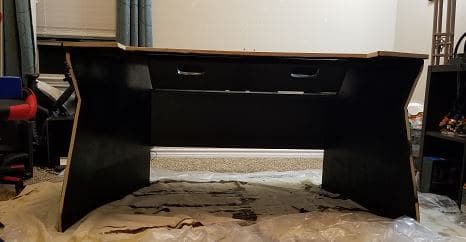 The whole idea was to bring in cooler air from the sides and then route it throughout the case and then out the back.
Did the final build end up matching the original conception or were their adjustments made during the build process? Is so please elaborate.
🙂 It was very close. The only difference, and you can see it in the pics, is the placement of the fans. I wanted them to be up front but also wanted to not choke my system of air. So I made the decision to move the placement of the fans to the side and for aesthetics and air flow it's been great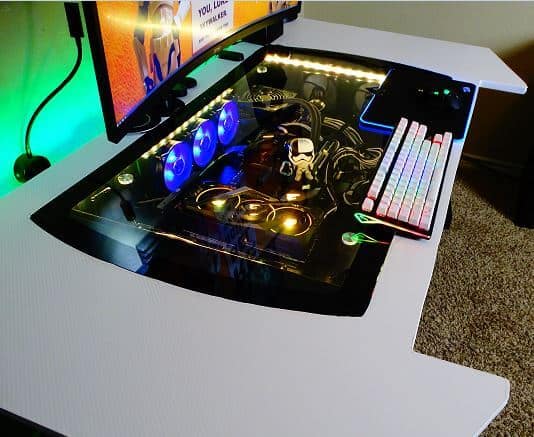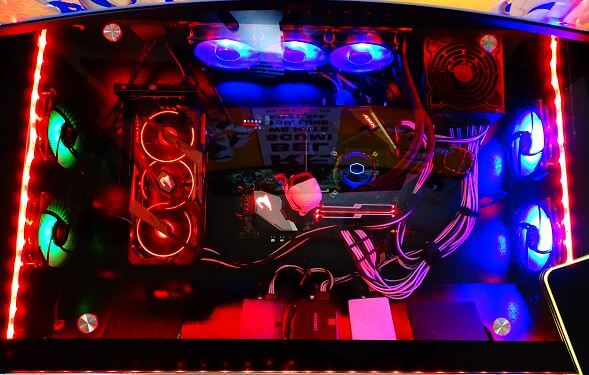 Please give us insight into the airflow strategy for Project Stormtrooper.
So there are 7 120mm fans 4 are for intake and 3 are for exhaust. The whole desk is built with airflow in mind. I even put vents up front to not only give it a more aggressive look but more air for intake and exhaust. The glass also has 3 small wholes over the PSU to allow air to flow above it the air is moving from side to side but then funneled to the rear of the desk.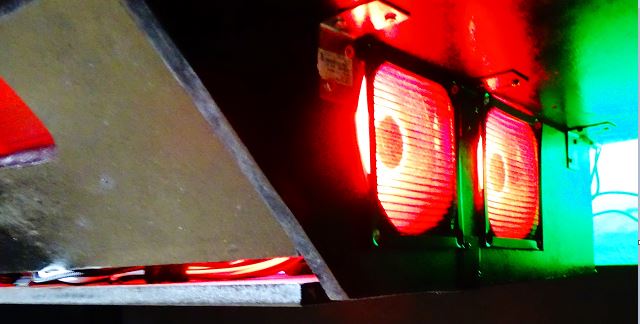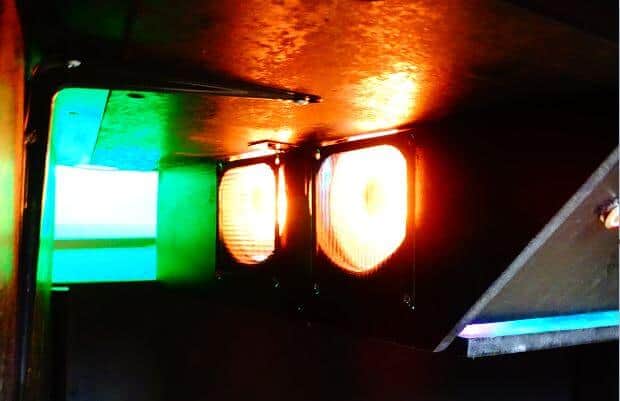 Author's Note – Airflow consideration is a critical part of the design aspect for a desk PC. Ensuring that hot air is exhausting adequately while at the same time being mindful not to route exhaust toward the user will ensure that your system can run at acceptable temps for extended periods without causing discomfort for the user. Damon's approach to exhausting warm air out the back of the desk addresses both of these potential issues.
Based on this experience, can you offer any guidance or suggestions for aspiring builders who are wanting to build their own desk PC case?
Make sure you build a custom set up that is original and says something about you and your passion for PC tech. Also, make sure that you think about your parts and the power they need to run plus the amount of air it will take to cool it. Other than that, make your ring shine.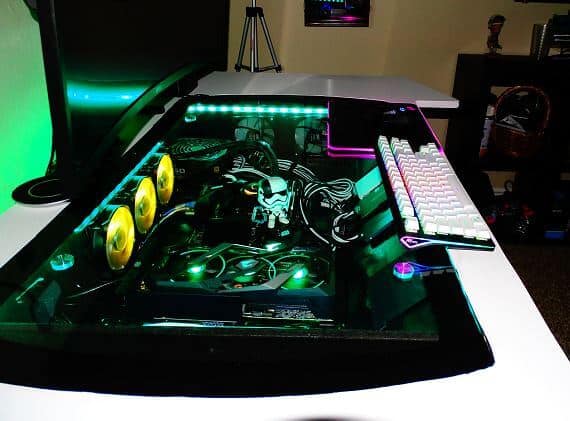 Finally, if you were to build Project Stormtrooper or another DIY Desk PC case in the future, what changes would you make to the design or materials used.
I would get a laser cutter or have the hardware store cut all my wood first lol.  Other than that, I would build my desk again the same way.
Tools Used In This Build
Table Saw
Jigsaw
Sander
Level
Tape Measure
screws
Corner Brackets
PC Specs
Processor – Intel 8700K delided @ 5Ghz
Motherboard- Aorus Z390 Pro WIFI
Graphics Card – Aorus RTX 2080 Extreme
All In One Liquid Cooling – Cooler Master ML360R RGB
Power Supply – EVGA 850watt G3
Fans – 3 Cooler Master ARGB and 4 DeepCool ARGB
Cables – White and black cable mod cables
Storage- 3 Samsung 850 pro 500GB and 1 500GB Crucial NVME M.2
Monitors- 34in MSI MAG341CQ and 27in scepter 4k
Audio – Logitech z33 and Steel Series Arctis 7
Keyboard – Bluetooth RK TKL RGB with cherry Red switches
Mouse – Logitech 602 wireless
About The Builder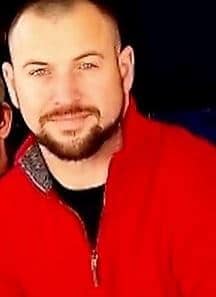 I have been building PCs for 6 years but have been in the tech field for 13yrs. I love making new builds that just look great and fuction great.
At this time the only project i have is another desk build but with the PC on the wall for my father.
My channel youtube.com/hyper4tech is all about tech reviews and PC gaming. I wanted my channel to be that channel that answers the question almost every consumer has about a PC product and whether or not it is worth buying, as well as how and what is the best way to use it. Also, I wanted to bring a fresh perspective on pc building for the Average Joe out there wanting an awesome PC but not wanting to break the bank. When it comes to gaming, I built this new desk pc to not just show off, I want it to game as well and my channel features game reviews and a lot more games in the near future.
Your readers can follow me on twitch @ twitch www.twitch.tv/hyper4tech They can become part of my Patreon at www.patreon.com/Hyper4Tech or follow me on twitter @hyper4tech 
If anyone has any questions about the any of the parts in the PC or the desk they can reach me on the YouTube channel comments. 
Author's Note – Special thanks to Damon at Hyper4Tech for sharing these insights into Project Stormtrooper. Click below to view his YouTube Video walkthrough of this project's features.