Not everyone needs gaming headphones. Some of us just want a reliable pair of headphones with active noise-canceling that won't break the bank. I researched long and hard before finally making this worthwhile purchase.
For under $70 US, the TaoTronics Active Noise Cancelling Bluetooth Headphones provide a comfortable listening experience and active-noise canceling. The foam earpieces prevent leaking of sound and the built-in microphone allows for taking phone calls without removing your headset.
Let's have a look at the features of these headphones and why I chose these over competing brands.
Comfort is King
Frankly, I don't care how good a pair of headphones sound if they are uncomfortable. If I can't stand to wear them for extended periods, what's the point?
In a previous life, I was a radio disc jockey and spent hours at a time with headphones on. I became obsessed with finding a pair of headphones that I could wear comfortably for extended periods. The thing was, we had access to expensive brand-name headsets that often carried price tags of more than $300. My interest in headphones have long outlasted my DJ career. As a result, I have worn and evaluated a ridiculous number of headphones over the years. 
I won't say that the Taotronics headphones stand up to a pair of $300-$500 headphones when it comes to comfort but what I can tell you is for the price, these things are a joy to wear. I tend to listen to music and podcasts for long hours while I'm working in my home office. So as not to distract (or annoy) my wife, I head headphones while listening quite often. The Taotronics headphones have a padded section for the top of the head in addition to the ear pieces. They adjust to fit different head sizes and swivel at the base of each headpiece which allows them to form-fit against the ear. 
The swivel bases of the earpieces are a key part of the comfort and fit of these headphones. Often the less expensive "entry level" headphones have a rigid earpiece that doesn't allow for it to form with the shape of your head. If you plan to listen for extended periods, this level of adjustment for a custom fit is essential.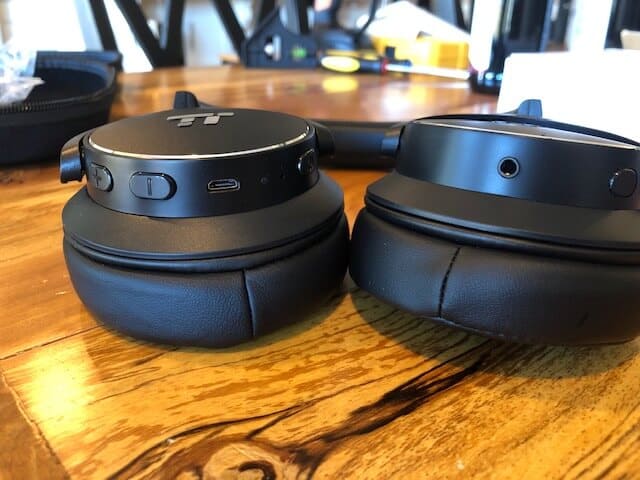 If I were to offer any criticisms when it comes to comfort it would be the tendency of the ear coverings to sweat when outdoors in the heat. This is a common issue with almost all over-ear headphones due to the isolating nature of the earpieces. I have a pair of Sony noise-canceling headphones that were my go-to devices for mowing the lawn prior to getting the Taotronics and they suffered the same issue. But for superior sound quality and noise-canceling ability over the ear headphones can't be topped by the in-the-end style so common these days.
Form-fitting Earpieces Prevent Leaking
If you are not familiar with the term, "leaking" refers to the sounds that you are listening to being audible to the people around you. More of a problem with in-ear headphones, leaking of sound can be an annoyance for those nearby while at the same time a privacy issue for others. These 
Taotronics headphones have soft, pliable earpiece fittings that press securely against your ears without squeezing so hard that they are uncomfortable.  The swivel base for the earpieces that I mentioned earlier also play an important role here since they conform to the shape of the individual's head. This allows the foam earpieces to secure around the ears better, further preventing sound leakage. 
Probably the best test of leaking that I have done is at night while laying in bed watching YouTube on my phone. While my wife is asleep, I will often lay there watching videos or sometimes just listening to a podcast. The listening experience for me is rich while she is not interrupted at all from her sleep. This is a far cry from previous experiences with the traditional in-ear headphones that came with my phone. If there was ever a litmus test for sound leakage, this is it. My wife values her sleep. 🙂
Battery Life
Taotronics advertises the battery life for the headphones as 30 hours. That's probably a stretch as electronics manufacturers tend to test their battery life under idea situations. Just as a laptop manufacturer may advertise 10-hour battery life and in real-world situations give closer to 7 or 8, I suspect the Taotronics battery life is somewhere under 30 hours. What I can say is that they do seem to provide essentially all-day battery life for my use. I tend to charge them each night and use them during the day when I am working and need to focus distraction-free. I can easily make it through an 8 to 10 hour day of listening and never even think about the battery life. And by the way, 10 hours of uninterrupted listening with headphones is a long time. This is where the comfort issue comes into play more than the battery life. 
I do like the bypass feature of the batteries, however. If the battery is low, you still have the option of using the included audio cable to connect to your phone, PC, or stereo. I haven't run into that need just yet but its good to know that its available. I ran across a couple of brands during my search that did not include this feature so basically when the battery was dead, the headphones were useless. These still work as traditional headphones in that scenario. It also comes with one of those airline adapters for plugging in on a flight. 
Active Noise-Canceling
Noise-canceling is a difficult area to measure unless you do a side by side comparison like I did. Sure, there are decibel comparisons and such but those don't take into account the effect on the sound when the noise canceling is activated. That's an important point that you need to really understand. Music, voice, everything sounds a little different when you turn on noise canceling. This is true of every noise-canceling headphone setup that I've tried, and I have tried a lot.
To put this into perspective, I'll compare my experience with the Bose QuietComfort 35 Series II which is arguably the top of the line, the Sony MDR10RDC Premium Digital Noise Canceling Headphones which are my favorite mid-tier option (though not wireless), and the Taotronics. 
If you are expecting a clear winner there should be no surprise that the Bose QuietComfort 35 Series II headphones win this battle by leaps and bounds. Bose is well known for their state of the art noise canceling technology. The Sony headphones come in second and the TaoTronics fall into last place. That's just how we would it expect it to be based on price and brand reputation.
That's not to say the noise canceling isn't effective in these headphones, it absolutely is. But it can't compare to the Bose or Sony. Of course, the Bose is really pricey and the Sony headphones aren't wireless. Where the Taotronics falls short is less in the effectiveness of the noise-canceling itself and more in the compression of the audio when noise-canceling is activated. To be clear, each of these headphones tends to make the audio a little more tiny with noise-canceling on. Bose has the least effect on the audio, the Taotronics have the most. The music still sounds good and I don't really give it a second thought when I'm using them but when you switch noise canceling from "off" to "on" you do notice the difference. Is it a deal breaker? No. Is it worth mentioning here? Yes. My goal is to give you an honest overview of my experience and this is something noticeable. Whether or not it effects your personal listening experience will be significantly influenced by your own preferences. I suspect that unless you are a true audiophile this will not impact your listening enjoyment. And let's be honest, if you are an audiophile, you're probably better off with the Bose in the first place. 
Sound Quality
When all is said and done, it really comes down to this, doesn't it? I've pretty much covered the impact of sound quality with noise-canceling turned on so let me give an overview of the sound quality overall. In short, I'm amazed at the quality of sound that these inexpensive headphones can produce. The range feels full with highs and lows coming through undistorted when noise-canceling is off. That range sounds compressed when noise-canceling is activated as I explained before but as a whole, I'd give the Taotronics a thumbs up for overall sound quality, especially at this price range.
Bluetooth Connectivity
The true test of "wireless" headphones lies in the effectiveness of their Bluetooth connectivity. If the Bluetooth is sketchy then the whole experience will be horrendous regardless of how comfortable the headphones feel, how effective their noise-canceling capabilities are, or how wonderful the sound quality is. 
When it comes to Bluetooth, the Taotronics is very reliable. It auto-reconnects to a device when you turn it on. I often lay my phone down in the kitchen and will move about through the area without ever losing connectivity. I tested this a few times with a tape measure and I would say that about 15-20 foot away in an open area is a safe connectivity zone. When it comes to walls, the science gets a little harder since the material the walls are made of and whether they have insulation or not play a major role. That's an issue with Bluetooth though, not the headset. I tested four different Bluetooth devices and the results were almost identical. So all in all, I'd say the Bluetooth technology in the Taotronics is on par with any other Bluetooth device. Not better, not worse, about the same.
Travel-Friendly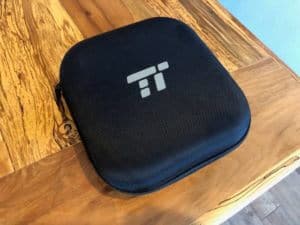 The Taotronics headphones' earpieces rotate 90 degrees to allow for them to lay flat in the included travel case. The case is one of those firm soft cases that have become trendy over the past few years. There is a velcro strap that secures them in place. The case also has a mesh pocket to hold cables, charger, and any other accessories.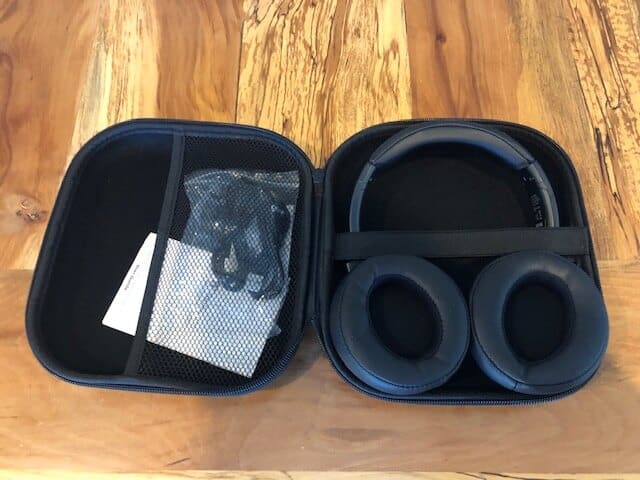 The case measures about 8 inches 8 3/4 inches and is about 2 1/2 inches thick. 
Summary and Recommendation
Of course, you really have to be realistic in your expectations and compare apples to apples when evaluating any aspect of the Taotronics headphones against another pair. These are not Bose. Head to head, the Taotronics would not outperform a pair of headphones that cost over $300 in this or any category, except for the price of course. It's important to manage your expectations. I was not expecting these headphones to perform at a level consistent with the more expensive audiophile brands. With that expectation grounded, however, I was pleasantly surprised by their performance. I have used them at least two or three times a week for the past four months and have no regrets on my purchase. 
So are the Taotronics Active Noise Cancelling Headphones for you? That depends entirely on your situation. If you are looking for a pair of noise-canceling headphones that will allow you to enjoy your listening experience in private without disturbing others, and you aren't ready to invest significant money in that experience, then these headphones are a great choice. If, on the other hand, you demand superior sound quality, comfort, and noise-canceling regardless of price, the Bose QuietComfort 35 Series II headphones are still the brand to beat. If wireless isn't a dealbreaker, then the Sony MDR10RDC headphones offer great noise-canceling at an affordable price.
You can click here to check the latest price on Amazon for the TaoTronics Active Noise Cancelling Bluetooth Headphones.